Cookware is the cornerstone of every kitchen. Finding a set that's durable and can heat evenly is crucial for anyone who wants to become a better cook. Solid construction, aesthetics and affordable pricing are the three most common criteria by which most people shop for their cookware. While all these three criteria are important, there is much more to consider when buying a suitable cookware for your kitchen. In this article we are going to look at how to go one step further and choose a cookware for those of you who are serious about your cooking.
So first, let's start with the good old question; cooking set or open stock? Which one is better?
Cooking Sets vs. Open Stock, which one is better?
As already mentioned, the generic three criteria by which most of us usually shop are: solid construction, aesthetics and reasonable price. At least two of these 3 criterias are easier to meet when we shop for cookware in sets. It is a convenient and more affordable alternative to tracking down pots and pans one piece at a time. It also solves the issue of aesthetics for those who want to have their cookware consistent in appearance (aesthetics).
However, sometimes buying a cooking set comes at the expense of getting a few pieces that you will never need. Professional cooks usually prefer Open Stock options. They choose their pots and pans piece by piece. In such case, functionality and compatibility among pieces is crucially important to pay attention to. Higher-end cooking sets have been thoughtfully designed to serve cooks rather than other away around. It's harder to achieve when buying individual pieces. Luckily Mozow pots and pans offer a fantastic alternative for anyone who wants to go Open Stock and shop for each piece individually while maintaining cross-compatibility and aesthetic consistency among pieces. Each piece from Mozow cookware collection fits seamlessly with one another.
Be aware of cheap cookware options
Cheap cookware comes with hidden cost. It is not a big issue if you are buying a kitchenware that won't be used much. For example when purchasing a filler for your AirBnB apartment. However, if you are looking for something you do plan to use regularly, be aware of some of the common drawbacks of cheap cookware. Sizing and usefulness of individual piece within each set comes to mind. Shrinking the pot and pan sizes might reduce the manufacturing cost and therefore the price, but it also means cooking in batches which can slow you down in a kitchen.
Buying cookware set is almost always a compromise. If you want something that will fit your needs we recommend you to select piece by piece from a renown cookware collection. That way you will have all the pieces necessary for your cooking while maintaining functional and aesthetic consistency among pieces. It is also cheaper considering that premium, professionally designed cooking sets are quite expensive. Don't pay for high quality pieces that you don't need. Less is more. Select what you need, but get it from a renown cookware collection such as Mozow's OM-HU.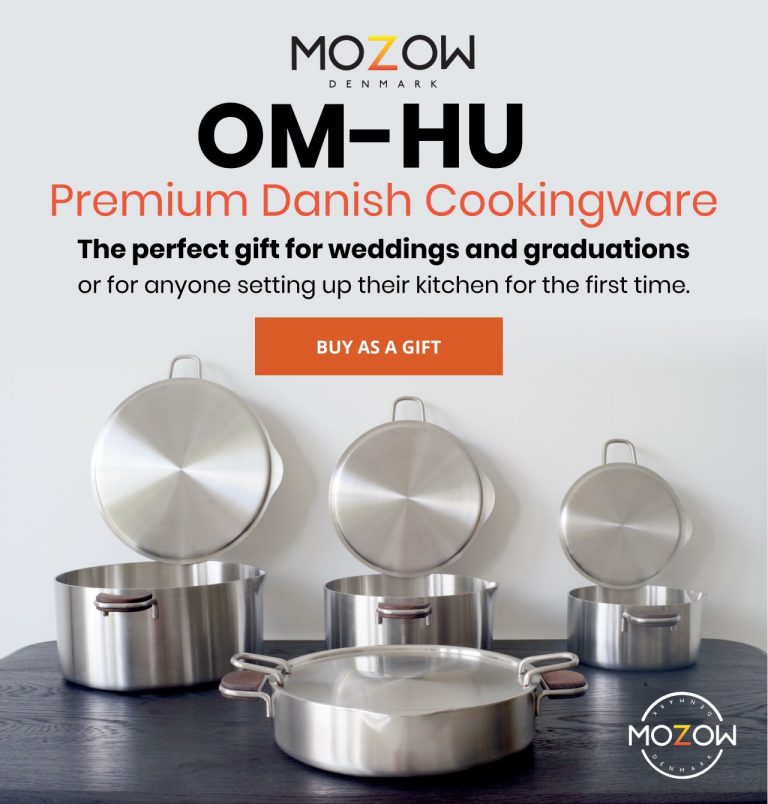 Cookware sets are a great gift for weddings and graduations, or for anyone who is setting up their kitchen for the first time. However, if you are a bit creative and passionate about cooking you can create your own set by choosing each piece individually. That way you will be gifting more than just cookware set. You will be giving away a bit of your personal passion for cooking.
We recommend to shop for open stock, and select piece by piece rather then get all in one cookware sets.
The important criteria to be pay attention to when choosing the right cookware are as follows:
pot and pan sizing,
weight,
durability and heat distribution,
ergonomics and the material they are made of.
So let's look at each of those in more detail.
Optimal pot and pan sizes
Most people are inclined to buy sets because it is cheaper than buying pieces individually. However buying a cooking set involves a compromise. Most manufacturers cut corners by including smaller pot and pan sizes in a set to reduce the overall price. Therefore it's worth to pay attention to sizing of the pots and pans in each set. Remember, what seems like a minor issue and a big saving at the time of purchase, can easily turn other way round and become a small savings and a major issues in the kitchen later. Smaller pot and pan sizes will require you to cook in batches and can slow you down in the kitchen.
Also, sets often sell you pieces that you will never need, which leads to further purchases of additional individual pieces later on. These additional purchases mean spending the saved money, often paying more at the end.
In general it is better to buy a small, but useful set of optimal sizing rather than large set with many pots and pans of useless sizes. Many of the pots and pans in those larger sets are just fillers, or even worse a clutter in your kitchen. Or even better, get each piece individually, piece by piece, but choose them from a renown cookware collection such as Mozow's OM-HU.
To learn more about optimal pot and pan sizes, visit this article.
Weight
Getting a sense of each set just by looking at pictures online, especially when it comes to ratio between weight, material and size, is extremely difficult. Therefore it is usually better to swing by to your local shop and check the cookware in person. That way you get a feel for the weight and the actual size of each piece.
While the ideal weight and balance of cookware is somehow subjective, most people seem to prefer skillets that weight somewhere between 0.9 and 1.5 kgs. This is still light enough for tossing ingredients on a pan without placing too much torque on your wrists. Weight is another reason why Mozow's pots and pans are a good choice for those who intend to cook regularly.
[ Image with mozow pieces each featuring weight ]
MOZOW cookware comes at weights that are ideal for everyday cooking, with centre of gravity strategically adjusted for a better balance.